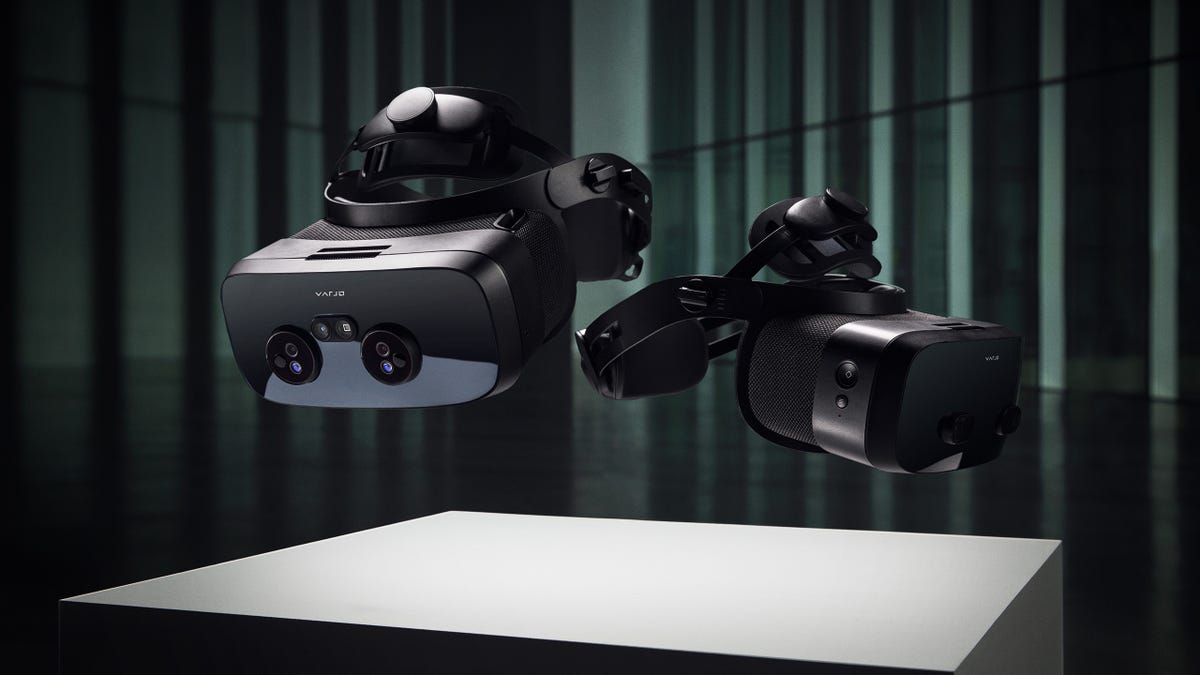 Mixed-reality consumer headsets have come a long way since the first Oculus Rift and HTC Vive, thanks to higher-resolution displays, faster refresh rates, improved motion tracking and more. However, enterprise-class headphones have undoubtedly made even greater strides, and with its new third-generation VR and XR HMDs, Varjo can give us ordinary people a look at what kind of upgrades we can expect to see seeping down to consumer VR in the the next couple of years.
Varjo's new VR-3 and XR-3 are available from today and have a number of advantages over today's best consumer headsets. First, both the VR-3 and XR-3 have a 115-degree field of view, which Varjo claims is one of the widest FOVs for any headset on the market, and a significant jump up from headphones like the HP Reverb G2's FOV at 88 degrees.
On top of that, it offers both VR-3 and XR-3 (which boasts the same Varjo-designed custom optics) ultra-high resolution that uses a central focus area of ​​1920 x 1920 pixels per eye in addition to a peripheral focus area of ​​2880 x 2720 pixels per eye, which is four times the resolution you get in a valve index and twice the resolution of the HP Reverb G2. And in case that is not enough, Varjo's optics are also based on similar screens as the one Samsung used on the Galaxy S10, which offers strong color reproduction covering 99% and 93% of the sRGB and Adobe RGB spectrum. In short, Varjo's "bionic monitors" in full format can offer possibly the best image quality of any headset available right now.
Better specifications are also not the only upgrades from the latest generation of headphones, as both the VR-3 and XR-3 also come with a redesigned three-point precision headband to better accommodate a wide range of head shapes while being 40% lighter than before, along with support for fully automatic IPD adjustment, 200Hz eye tracking and a new mask design that makes it easier to wipe down and clean between uses. Varjo also added new stereo cameras, so you do not have to lift your headphones all the time when you need to check in on the meat area.
G / O Media can get a commission
But for me, the VR-3 and XR-3's most important upgrade (apart from optics) may be their new active cooling fans, which will prevent the headset from getting uncomfortably damp like so many other headsets do after prolonged sessions.
Meanwhile, for businesses that need headphones that can handle both VR and XR applications, the XR-3 has LiDAR sensors that can use depth information to merge the real world with 3D rendering.
Unfortunately, due to the pandemic, I have not had the chance to check out any of Varjo's new headsets in person, but based on some of the comparisons released by Varjo, the optics of the new headsets are quite impressive. In a screenshot from a flight simulator, the VR-3 and XR-3's increased resolution makes it possible to actually see the instrument panel in the aircraft's cockpit, which means that instead of fumbling around and trying to squint at different readings, a potential pilot could get training which could be more easily transferred to the real world. And with Varjo's increased FOV (which is up 40% from the company's previous headsets), improved VR or XR immersion should also get a huge boost.
Finally, while the $ 3200 VR-3 and $ 5500 XR-3 are still quite expensive, especially compared to your average consumer headset (and it does not include a $ 800- $ 1500 subscription fee), Varjo's new headsets are about half the price from the previous headphones. Regardless, if this is the kind of optics and image quality we can look forward to in future consumer headsets, I can not wait for this technology to drip down and become less expensive.
Source link