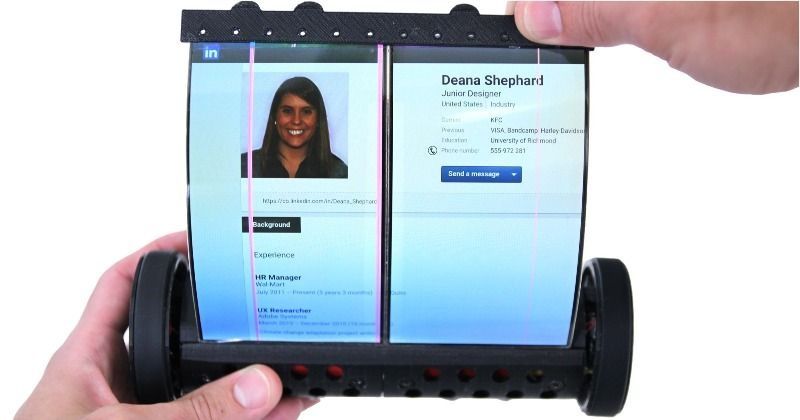 Flexible display technology is something a number of companies and researchers have worked with. After all, it may mean the beginning of the future smartphone. Now researchers can have built something completely different from what we expected.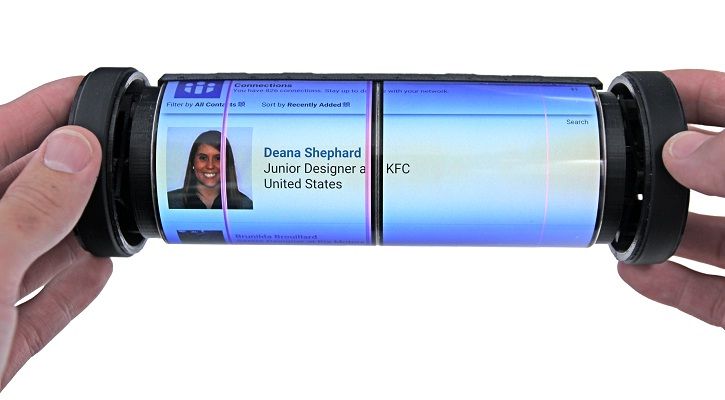 Photos courtesy: Queen's University
Researchers at Queen's University Human Media Lab have built a touchscreen prototype that is not something you've seen before. It is half way between a tablet and a rolled manuscript that is usually straight out of an Indiana Jones movie. MagicScroll, as it is called, is inspired by an old scroll you can find in an archaeological site. Basically, there is a cylinder from where you roll out a 7.5-inch touchscreen.
Because of this groundbreaking design, the W win roll completely tumbled down, just twist a wheel at one end of the cylinder to almost flip the screen like a previous rolodex. Then, instead of dragging the touch screen to scroll down the page for example, you can literally transform the roll to see the lower half at the same time.
Do not Miss
<! –
->
<! –
->
"We were inspired by the design of old rolls because their shape allows for a more natural, uninterrupted experience of long visual timelines," said Roel Vertegaal, Director of the Laboratory. "Another inspiration source were the old Rolodex filing systems that were used to store and browse contact cards. MagicScroll's scroll wheel allows infinite scrolling action for fast browsing through long lists. Expanding the roll is a concrete experience that gives a full screen view of the selected item. Image browse the Instagram timeline, messages, or LinkedIn contacts this way! "
Despite the difficult design that 3D printing was required to achieve it, the screen still offers an impressive 2K resolution. It's not up to your flagships, but hey the freaking rolls physically!
One problem is that the entire roll is a bit too big right now, but then it's only a concept prototype. However, it should not be too difficult to miniature the device further when the technology has been perfected. In addition, the team claims that it already benefits in terms of current devices, given that it has massive display real estate while still quite easy and easy to handle with one hand. Not to mention it fits easily in your pocket when you roll it up, unlike any other devices out there .
Aside from an audio microphone, the developers also included a camera as a bonus so you can control MagicScroll with gestures. Are there any robot actuators for rotating wheels. That way when you get a notification and the device is set on a flat surface, it slowly spins into place.
"Finally, we hope to design the device so it can even roll into something as little as a pen that you can carry in your shirt pocket," added Vertegaal. "To a greater extent, the MagicScroll project also offers the opportunity to investigate ideas that the screens should not be flat and everything can be a screen."
The team looks at the technology largely used for consumer products in the future. Think of a reusable cup you will carry with you on your way to work, which will let you choose your coffee order before you get to Starbucks pit stop. Or maybe there may be a screen in the sleeves of your jacket that can let you call. Honestly, the possibilities are unlimited.
<! –
->
window.twttr = (function (d, s, id) { where js, fjs = d.getElementsByTagName (s) [0], t = window.twttr || {}; if (d.getElementById (id)) returns t; js = d.createElement (s); js.id = id; js.src = "https://platform.twitter.com/widgets.js"; fjs.parentNode.insertBefore (js, fjs);
t._e = []; t.ready = function (f) { t._e.push (f); };
return t; } (document, "script", "twitter-wjs"));
(function (d, s, id) { where js, fjs = d.getElementsByTagName (s) [0]; if (d.getElementById (id)) return; js = d.createElement (s); js.id = id; js.src = "//connect.facebook.net/en_US/sdk.js#xfbml=1&version=v2.9"; fjs.parentNode.insertBefore (js, fjs); } (document, & # 39; script & # 39 ;, & # 39; facebook-jssdk & # 39;));
window.fbAsyncInit = function () { FB.init ({ AppId: & # 39; 117787264903013 & # 39 ;, status: true, xfbml: true, version: & # 39; v2.9 & # 39; // or v2.0, v2.1, v2.2, v2.3 }); };
was scr = document.createElement ("script"); //scr.src = "https://notifications.indiatimes.com/js/main.js" + "? ts =" + new date (). getTime (); scr.src = "https://staticresources.indiatimes.in/resources/themes/indiatimes_desktop_default/js/webnotification/main.min.js"+"? ts = "+ new date (). getTime (); scr.async = true; document.getElementsByTagName ("head") [0] .appendChild (SCR);