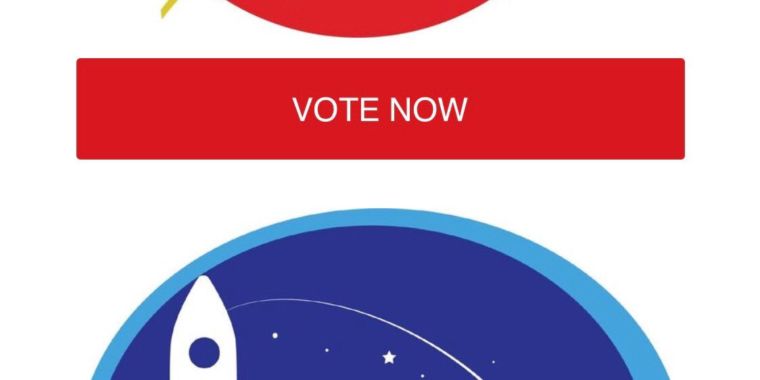 The first two logos are offered to Trump campaign players as alternatives to a proposed Space Force. I wonder if NASA has been on the phone for a copyright and trademark attorney yet?


Trump Team America Great Again Committee

Alternatives three and four. Do you think who designed these, know that the Space Shuttles have all been retired, and any future crews in the next decades will not have wings? Number three was obviously a fan of Palitoy's Action Force action figures in the 1980s.


Trump Team America Great Again Committee

Options five and six. Several shuttle buses. The final logo looks more like a tourism poster, at least to me.


Trump Team America Great Again Committee

The iconic NASA logo. Looks pretty similar to the first proposed Space Force one, right?


NASA

This is the logo of STS-1, the first space shuttle assignment.


NASA
The army has its star, Marines a ground and anchor. However, the decision on which logo will give the proposed Space Force might stand up to the donors of President Trump's political action committee. On Thursday, it sent an email to supporters who asked them to vote for six different logos for this potential new branch of the US military.
Earlier Thursday morning, Vice President Pence confirmed that the administration is indeed serious about creating a sixth branch of the military. In a speech on the Pentagon, Pence claimed that the nation needs to claim dominance over space and that opponents – China and Russia to be precise – already militarize the world's paths.
Many questions remain to be answered about Space Force, the last one is: who designed these logos? The first option has more than a little resemblance to the NASA logo, but with another, yet NASA-like script, at least to this observer. Option three looks like it belonged to the Action Force, a play game from the 1980s, which actually included a Space Force, which was British like GI Joe. Option number four suggests both the STS-1 mission packet (the first space shuttle assignment) and the logo of the Light Car Company Rocket, a characteristic small sports car designed by Gordon Murray.
I'm actually quite partial to logo number five, which takes me back to the early Cold War, and the slim marketing posters are posted by the aviation industry. The final design may be the most out there proclaiming "MARS AWAITS;" Maybe the inspiration here was the Jet Propulsion Laboratory's last "Visions of the Future" tourist posters.
We must wait to see if a Space Force is really set up before we know if any of these six designs will actually be adopted as their logo. But it appears that trademarks carrying these images will be available in return for a donation to the Trump campaign in the near future.
Trump Recording Image Team America Great Again Committee
Source link