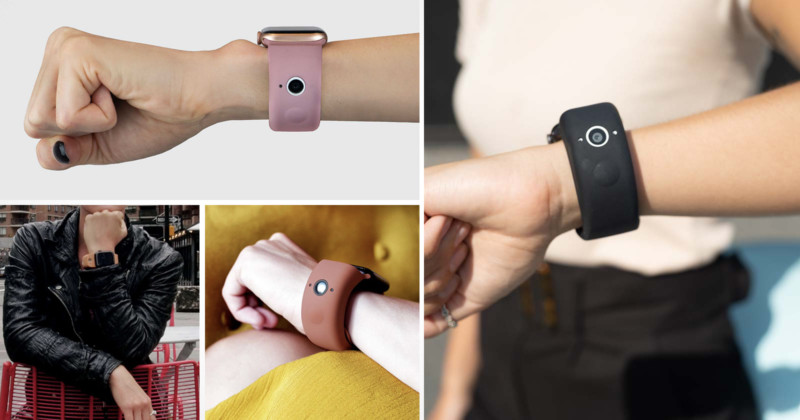 Have you found yourself wishing the Apple Watch had a camera? The developers of Wristcam look like they did, as the device integrates two cameras into an Apple-certified strap that can be controlled via an Apple Watch app.
The strap is noticeably larger than a typical Apple Watch strap, but that is to be expected since it integrates two HD cameras and its own power source. The company announces Wristcam which gives the user "the freedom to instantly capture and share high quality photos and video, right from the wrist."
The strap integrates two Sony cameras: one is an 8 megapixel "world-facing" camera designed to take pictures and videos of the surroundings, and the other is a 2-megapixel camera that is self-facing, made to take video calls. Both cameras support video streaming. The company claims that both cameras support 1080p video with 3840 × 2160 images.
Wristcam works with the Wristcam app on the Apple Watch and lets you control what the cameras do, like start a live stream, use your watch to take photos and share everything that's been taken.
The company promises "battery life all day" via a built-in, independently charging battery. Wristcam includes built-in Wi-Fi (2.4 and 5 GHz) and Bluetooth 5.0.
Wristcam announces unlimited cloud storage on top of 8 GB of internal storage. How unlimited storage will work, and how long it will really remain "unlimited" is not clear.
The Wristcam will sell for $ 299 and comes in four basic colors: noir (black), blanc (white), gray and rosé. Extra straps that do not include the camera module can be purchased for $ 50 and are available in twilight (light blue), grape crush (purple) and henna (reddish brown). It is compatible with all iPhones starting on the 6S and all Apple Watches from Series 1 to 6.
Wristcam is currently available for pre-order – or as Wristcam puts it, "Reserve" – ​​and is expected to start delivery in March 2021.
(via DPReview)