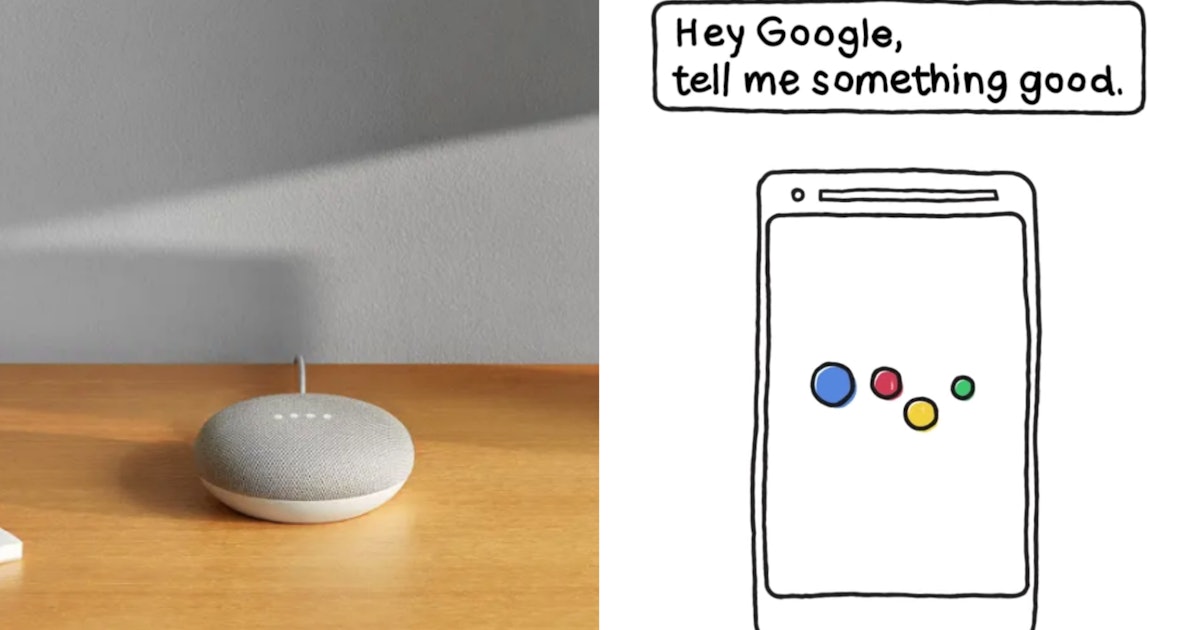 It's no secret that our current news cycle is often a burning hell, to say it carefully. In fact, it's so familiar that Google Assistant has rolled out a new feature that might be prompted to say, "Hi Google, Tell Me Something Good." (While we're on … Alexa, play "Tell me something good" by Rufus and Chaka Khan.)
Advertised in a blog post Tuesday, the new Google Assistant feature will share a brief summary of a positive news story When a user requests it with the simple phrase, "Tell me something good." The new feature works on all Google Assistant enabled devices, whether it's your Google home, laptop or mobile device. So while you're up to what is happening in the world, you can also keep up to date the good things that happen, despite and to counter the bad ones.
What good news will Google Assistant share? Basically, any kind of story where people work to influence the change in the world are positive. For example, according to Google blog posts, the good news could be how Georgia State University stopped students from "slipping through cracks" and closing performance gap between black and white students by linking empathy statistics. It may also be about backyard beers in Detroit that help to strengthen the declining bi-population. Basically, news about people is doing well.
The curated good news comes from the Solutions Journalism Network. They are a nonpartisan, non-for-profit journalist working to mark how people solve problems, rather than just reporting on the issues themselves. As the mission statement states, "We seek to balance the news so people are exposed to stories everyday, helping them understand problems and challenges, and stories that show possible ways to respond."
Of course, Google knows this New feature will not solve all our current issues or suddenly make all bad news bearable. As Google Lab creative producer Ryan Burke writes in a blog post for the new feature, saying "Tell me something good" is not a magical solution. But it's an experiment worth trying because it's good information about good work that can give you something good for your day. "
Keeping informed is an important part of being a committed citizen. However, it can be mentally, emotionally and even physically exhausting to constantly read about the bad things happening around the world. In fact, some people Studies reported about an increase in headline stress disorder, which, as the name suggests, is news cycle-induced stress. You probably do not need to look beyond your own post-habits to know that the news makes us drink more, it does to feel more angry and depressed. So, instead of flooding our displays and, in turn, even with disappointing news, Google Assistant's new feature works to remind us that good things are still happening.
Google Assistant's new feature is linked to other news-related measures that work to combat our news cycle fatigue. Huffington Post has a whole Good News section on their website, reporting everything from stupid to oppressive Business models of websites like UpWorthy and Good.Is focus on people who make positive things, and show stories that exemplify positive change. Even Mr. Rogers's suggestion to "look for the helpers" is an example of seeing the good in the bad.
It would be unknowingly to suggest that we stop being aware of bad news altogether. We need to know what's happening in the world, the issues that affect us and our neighbors. Like Lin-Manuel Miranda, "I think it's important to eat vegetables and I think it's important to eat your dessert. As I mean, if you go down the wormhole and read the worst news all the time, you're not going to to be of use to someone. "Then eat your vegetables, but do not forget to treat yourself to something good.