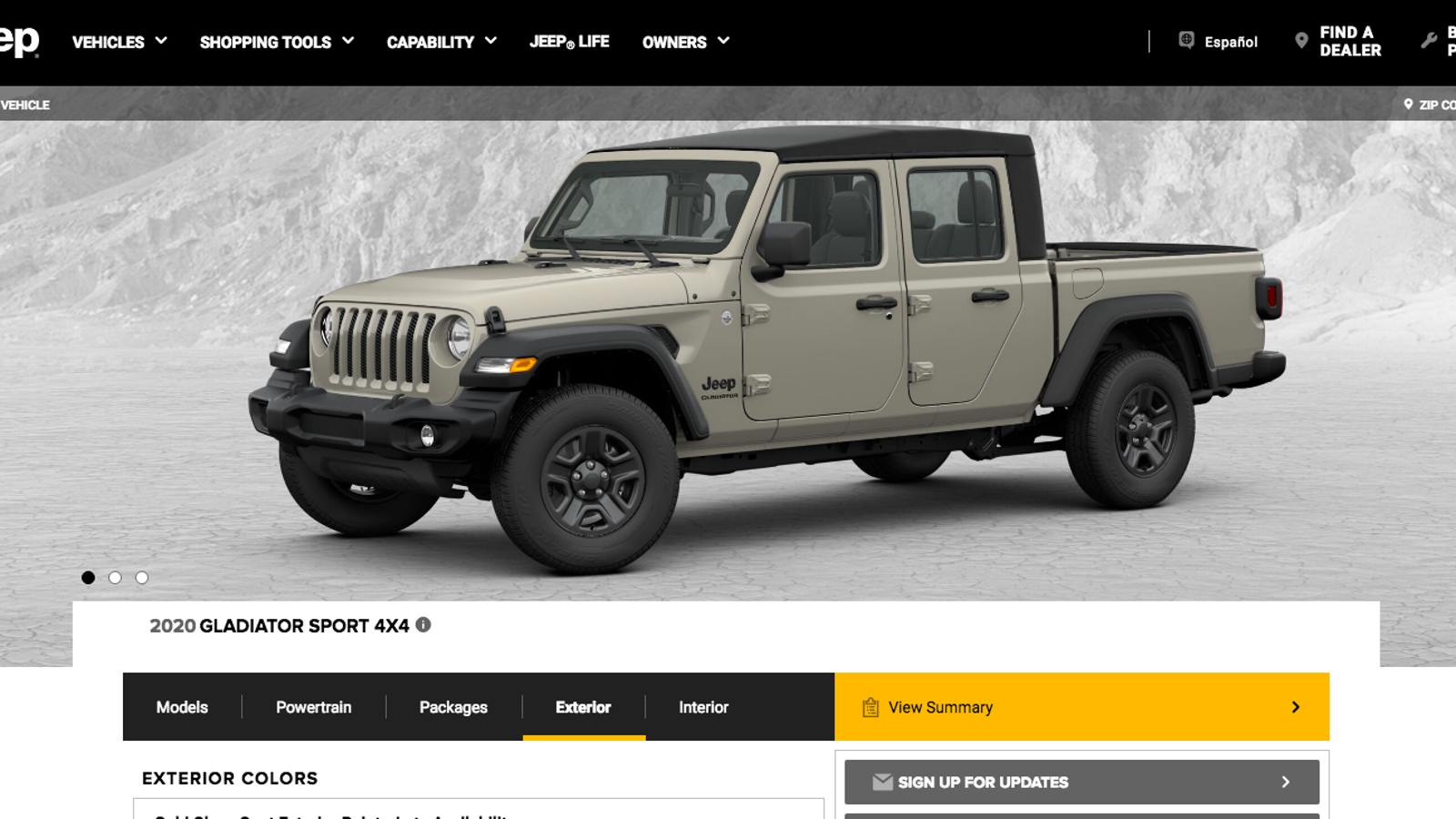 The Jeep Gladiator pickup configurator is now online. And while it does not show prices, it shows available packages, colors and other options. Show us how to configure the first Jeep pickup of over a quarter of a century.
I'm a cheap, cheap man. So no matter what MSRP this truck eventually gets, I'll just chop the base model and wait for people to change the Gladiators so I can buy the boot parts for cheap.
I do not think it will take a long time to find a set of light metal fields to cover the Gladiator Sport's horrid steelies, or Craigslist to screw up a set of rockers to hide the cloisters underneath the doors that make the truck look naked out. JK Wrangler take-off parts are hilariously cheap; It's just a matter of time before the JT parts go in the same direction.
Thus my vehicle would be a Gladiator Sport with a six-step manual and only a few alternatives crossed. Among them there would be a Track-Lok differential for a little extra grip on the road:
I would also like the trailer trailer group, which comes with another generator, a class four receiver hitch, heavy duty engine cooling and a zoom- function for backup camera to help adjust a trailer hitch. And I will add a brake control to the top of it.
In terms of color, I'm a big fan of the Gobi sand color shown in the pictures above. And inside, I had to go with tan, although I wish it was a real tan interior with a little light door and dash trim instead of just a pair of sunglasses.
The only problem with my manual sport setup is that it can only drag 4000 pounds. And if we're honest, it's not good, I think I really like to use this truck to drag project cars. Given, I live in flat, called Michigan, so I can probably drag much more than that without a problem, but the 7.650 pound max. Trailer figure is tempting.
But it's worth going with Sport S automatically and checking "max trailer" (which is not shown online simply yet) to get 4.10 axles and anything else that helps to hover the tow test to the top of the segment? I would like to please my own give, but I also want to have a toughness. Hmm.
Yes, I'll still get the base model and go from there. I'm cheap and paying more for an automatic is not something I'm planning to do in this life.
Source link