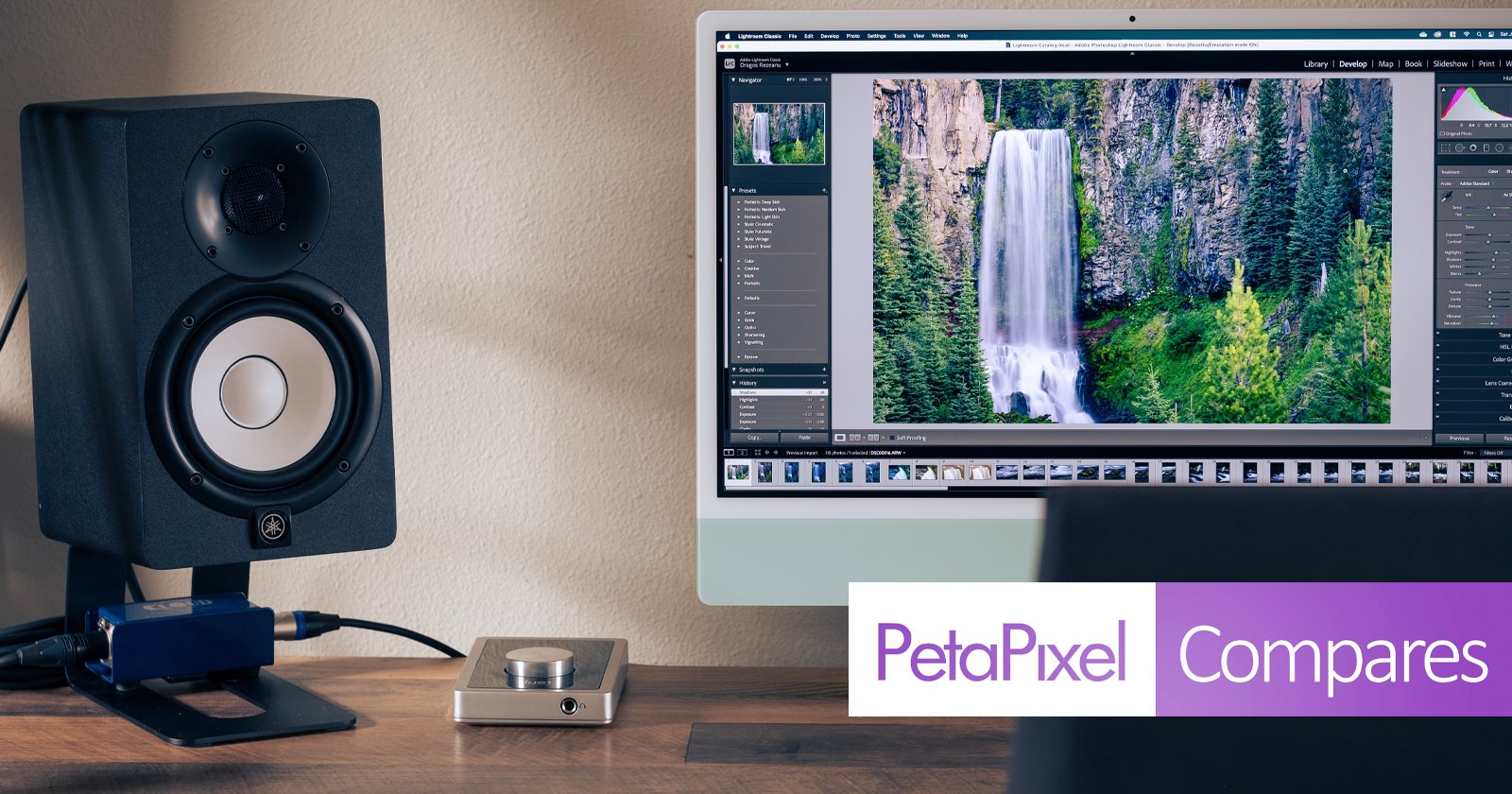 This morning, Adobe unveiled the long-awaited version of Lightroom Classic that is fully optimized for Apple Silicon devices, and we had a chance to test it before its release. Our hopes were high for a program that was so slow. Could Apple's M1 processor deliver a powerful performance boost for photographers? In short: yes. The latest version of Lightroom Classic was up to 25 percent faster on the M1 than on our more expensive Intel-based Mac.
Our experience with Apple Silicon-optimized apps from Adobe has been 50/50 so far. When Lightroom for M1 was released in December 2020, we found small performance gains beyond what M1 could already do via the Rosetta 2 emulation of the Intel version. Photoshop, on the other hand, experienced tremendous performance when optimized for Apple Silicon, and blew us away with the GPU, Filter, and especially Photo Merge points in Puget Systems' PugetBench reference.
For Adobe, the stakes are particularly high with Lightroom Classic. Most enthusiastic and professional photographers prefer Lightroom Classic over their cloud-based sibling Lightroom CC, and Capture One 21 – Lightroom Classic's biggest competitor – showed significant performance gains in almost every category with the release of version 14.2 optimized for Apple Silicon.
In other words: this would have been better.
The test
For this comparison, we decided to import and export 110 Sony a7R IV images and 150 PhaseOne XF images on three versions of the software and two different machines1:
ARM-optimized Lightroom that runs on an M1 iMac with 16 GB or RAM
Intel-optimized Lightroom running on the same M1 iMac via Rosetta 2
Intel-optimized Lightroom running on a 13-inch Intel MacBook Pro with 32GB of RAM
Imports were configured with 1: 1 preview, all other boxes unchecked, and exports were performed in two variants: 100 percent sRGB JPEG and 16-bit uncompressed AdobeRGB TIFF. Note that these tests are slightly different from previous references we have run, where we used standard preview when importing. By switching to 1: 1 previews, we can ignore changes in screen resolution / standard preview size, and since 1: 1 previews take longer to create, they give us a better basis for comparison.
The results are presented as the average of at least three consecutive races to compensate for inconsistencies, although we did not see any major change from race to race in any of our tests.
The results
In the import test, the ARM-optimized version was about 13.5 percent faster than the Rosetta 2 emulation for both Sony and PhaseOne files, and 20 to 24 percent faster than the Intel version that ran on an Intel chip. A pretty good start for Adobe:
And the good news kept rolling over every test we ran. Exporting 61 megapixel Sony a7R IV files and 100MP PhaseOne XF files as 100 percent JPEG was 10 to 12 percent faster than Rosetta 2 emulation, and about 24 percent faster than Intel Mac.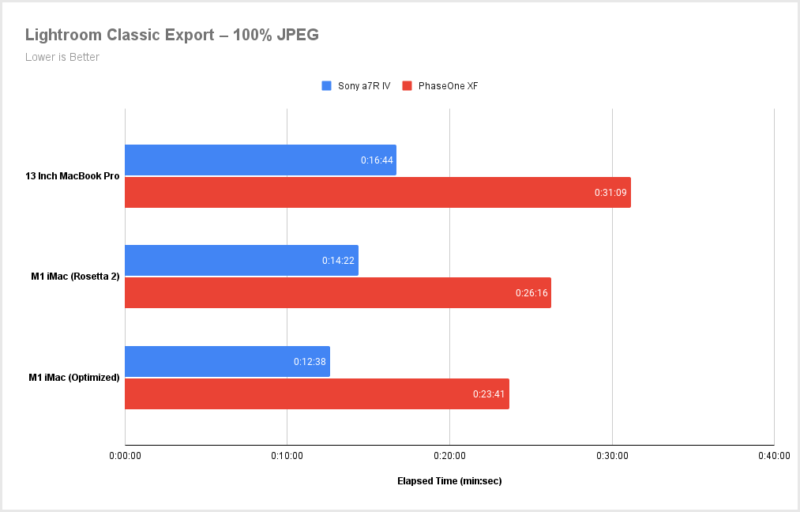 The larger 16-bit TIFF export received an improvement of nine to 13 percent compared to the Rosetta 2, and a huge improvement of 22 to 25 percent compared to the Intel version running on the Intel Mac.
Here are all the exports side by side, so you can compare them on the same scale:
Let's be honest: we did not expect much of a shock. After the weak performance of Lightroom CC for Apple Silicon, we thought we could see an improvement of five to ten percent at most. But these results paint a much more impressive story. Sure, Lightroom Classic for Apple Silicon is not two or three times faster than its Intel counterpart running on similar hardware, but ask yourself this: when the last time Adobe released a new version of Lightroom Classic was 25 percent faster in some category?
As far as we know, it was the closest we ever came with a modest jump of 11 percent in 2018, and that benefit was only available if you had a relatively powerful multi-core processor and at least 12 GB of RAM.
In comparison, today's update applies to all Apple Silicon Macs, including the extremely affordable M1 Mac mini which we called the best Mac for most photographers. And when we finally get to test this on the rumored 14-inch or 16-inch MacBook Pro with a 2nd generation Apple Silicon processor, we expect these numbers to be even better.
When companies compete, photographers win
We were not sure what to expect when we launched the ARM-optimized version on our M1 iMac, but these results leave us in no doubt: Adobe owes Apple a thank you note.
If you're already using an M1 Mac, you'll see a 10 to 12 percent improvement across the board compared to the Intel version running via Rosetta 2 emulation. Already good news. But if you have an Intel computer like our quad-core 13-inch MacBook Pro (which by the way has twice as much RAM1 of our M1 iMac and costs $ 700 more than a similar M1 MacBook Pro), you can expect even bigger gains – as much as a 20 to 25 percent improvement in import and export times.
There's nothing to spot, and Adobe's own tests show an even greater jump in performance when the two machines are smoother. When comparing an M1 MacBook Pro with 16 GB of RAM against an Intel MacBook Pro with 16 GB of RAM and a Core i5 processor, the company found a performance of 54 percent.
The release of the M1 SOC has enabled Adobe to showcase the biggest performance gains in Photoshop and Lightroom we've seen in years, paving the way for similar gains (we hope) for ARM-based Windows computers.
This is good news for Adobe, good news for Apple and bad news for Intel … but that's not why we're happy with updates like this. We are happy because great performance gains from every corner of the industry inspire innovation and competition everywhere. And that, dear reader, is it great news for photographers.
---
Footnotes:
113-inch MacBook Pro: 2.3 GHz quad-core Intel Core i7, Intel Iris Plus graphics and 32 GB LPDDR4X RAM.
24-inch iMac: Apple M1 SOC with 8-core CPU, 8-core GPU and 16 GB of unified memory.