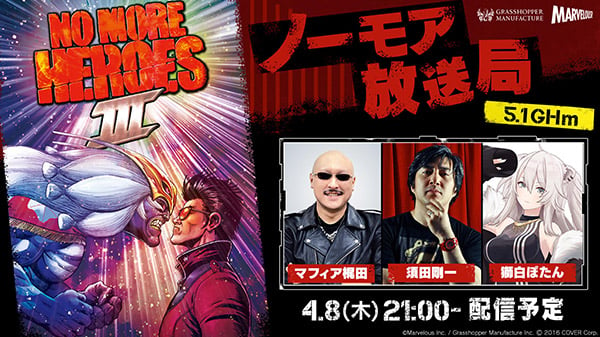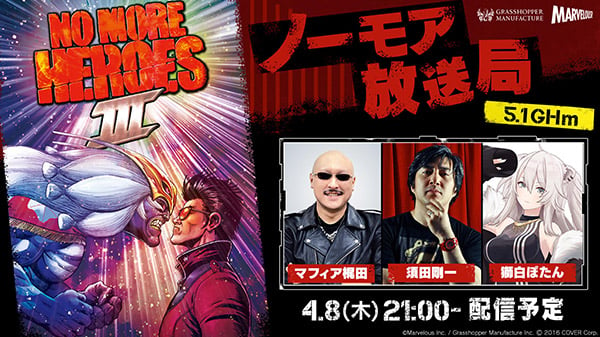 Marvelous will be hosting No More Heroes III official live stream "No More Broadcasting 5.1 GHm" April 8 at 21:00 JST, the company announced. You will be able to watch it on YouTube and Twitter.
The broadcast will look back on No more heroes series so far, as well as share the latest information about No More Heroes III. Presenters include MC Mafia Kajita, guest Shishiro Botan (from Virtual YouTuber gruop Hololive) and No More Heroes III director Goichi Suda.
No More Heroes III going out to Switch on August 27th worldwide.
Comment policy
Comments are welcome and encouraged on Gematsu. However, we ask that you follow a simple set of guidelines:
Read the full article before commenting.
Stay on topic.
No break-in comments, including trolling, bait or crap posting.
Know when not to comment. If you do not care about a topic, you do not need to comment.
No offensive comments. This includes violent, threatening, pornographic, misleading or insulting content / language, as well as general harassment and individual attacks.
No port begging.
No console war.
Use spoiler tags when posting spoiler or NSFW (non-nude-only) content. For example: Woe is Leomon. Enter the subject of the content outside the spoiler tags.
Be respectful of other commentators. You do not have to agree with each other, but debate politely. If you find that a commenter does not follow this simple label, do not continue the conversation ̵

1; just report it.
Gematsu reserves the right to edit or delete comments without notice. This comment policy can be changed at any time.